Fringe Gallery Exhibition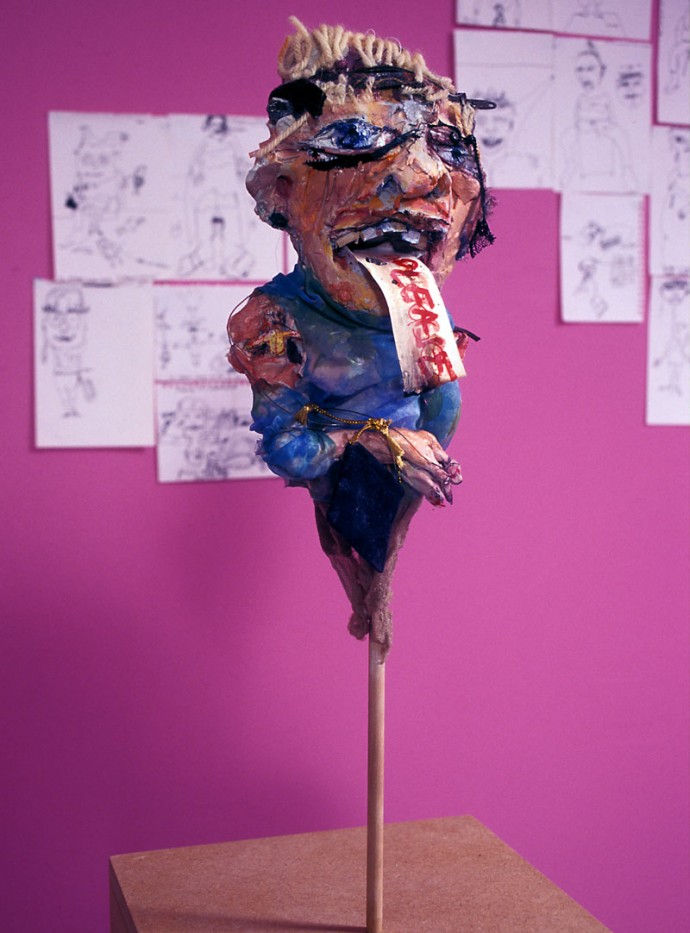 Fringe Gallery Exhibition
Catalogue Essay by Jim Birrell
In seeking an alternative and more potent means of expression Fiona Robertson has chosen to make a series of small, chromatic, figurative pieces. Rapidly modeled in clay, their features grossly exaggerated, these personages can be considered as part of the long tradition of the grotesque. Artists as historically and stylistically diverse as Acrimboldi, Bosch, Leonardo, Goya, and in the 20th Century, George Grosz and Salvador Dali have all been identified with the grotesque.
The historical grotesque is closely allied the Rabelaisian celebration of the carnival which the Russian literary theorist, Mikhail Bakhtin has characterized as the reversal of the hierarchical structures and value systems by means of parody and debasement. A central trait of this tradition is a preoccupation with the body's margins and functions particularly those of the "lower stratum".
Robertson's characterisations disclose an exuberant corporeality which gives emphasis to the body's protuberances or sexual attributes. Mouths, noses, breasts and stomachs are variously amplified resulting in a destabilization of the figures overall coherence. This conflict between content and form, between the rebellious desire to give untrammelled expression to meaning against the constraints of more normative, formal ideals instills a tension or antagonism which is a vital aspect of their impact. They also convey, through exposure to the base, physical properties of reality, a sense of contagion or defilement. Their status as putative representatives of authority is undermined by the density of detail with which Robertson has burdened them. They are revealed as fragile, singular beings, their conceits, pretentions and indignities laid bare.
The grotesque has been described as art that stands at the margins of experience and in that regard, enlarges our conception of human capacities, The disfigured, fractured, presences which Robertson has created, made in part from the detritus of the studio floor, fabric schards and other discarded waste, are an idiosyncratic confirmation of grotesque art's peculiar power to enrich our experience.